2022-2023 Boyertown School District Athletic Registrations
For the 2022-2023 school year, the Athletic Department will be utilizing Student Central for athletic registrations. This online registration platform will allow students and families in grades 7-12 to register for sports, complete all required athletic department forms, and PIAA CIPPE Sections 1-9 (athletic physical exam forms).
Registrations are due for winter sports:
Senior High - Nov. 9, 2022
Middle School - Nov. 18, 2022
Submitting forms after this date could result in a delay of your start date.
REMINDER: Athletic physicals must be completed on or after June 1, 2022.
Please take a moment to review our Student Central Kick Off Letter. It is recommended that the students create their account first, and then the parent can create their account and link them together by using a link that is created when the student creates his or her account. PLEASE MAKE SURE WHEN CREATING YOUR ACCOUNT THAT YOU SELECT THE CORRECT SCHOOL. STUDENTS ENTERING GRADES 7-8 SHOULD SELECT THE APPROPRIATE MIDDLE SCHOOL AND STUDENTS ENTERING GRADES 9-12 SHOULD SELECT BOYERTOWN AREA SENIOR HIGH SCHOOL. Please make sure both the parents and students sign all the required areas of the forms.
Below is information for students and families on how to set-up their accounts and complete their registrations. We recommend that when possible all students utilize their school district issued email when setting up their account.
Questions regarding sports physicals and sign-ups should be directed to the Athletic Office
Mr. Palladino - Director of Athletics dpalladino@boyertownasd.org
Mrs. Erb - Manager of Athletics - merb@boyertownasd.org
Getting Started Guide
(For Students & Parents/Guardians)
Click here for a PDF of the Getting Started Guide for Students & Parent/Guardians
How To Create Your Student Central Account
1. Goto: www.boyertownathletics.com and click on "Online Registration"
2. Follow instructions for creating your account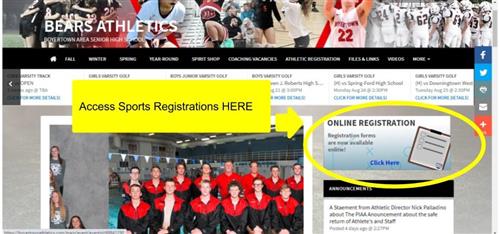 Setting up your Student Central Account Video Tutorial (For Students & Parents/Guardians)
Additional Information for Parents & Students
PIAA Section 7 - Doctors Form*
Student Central Getting Started Letter
*This form can be printed to take to the doctor, then uploaded to Student Central with the doctors signature and dated after June 1, 2022.
https://boyertownathletics.com